Hello there lovely and Happy Spring!
It has been a while since we've blogged and we are so excited to be back and talking about a few of our very favorite things: Spring, Florals, GypsyMoon Marketplace, and weddings! We would like to introduce you to a wedding vendor we have so enjoyed working with in the past, and are excited to work with in the future. They plan stunning events with gorgeous floral, and they will be joining us as vendors at GypsyMoon!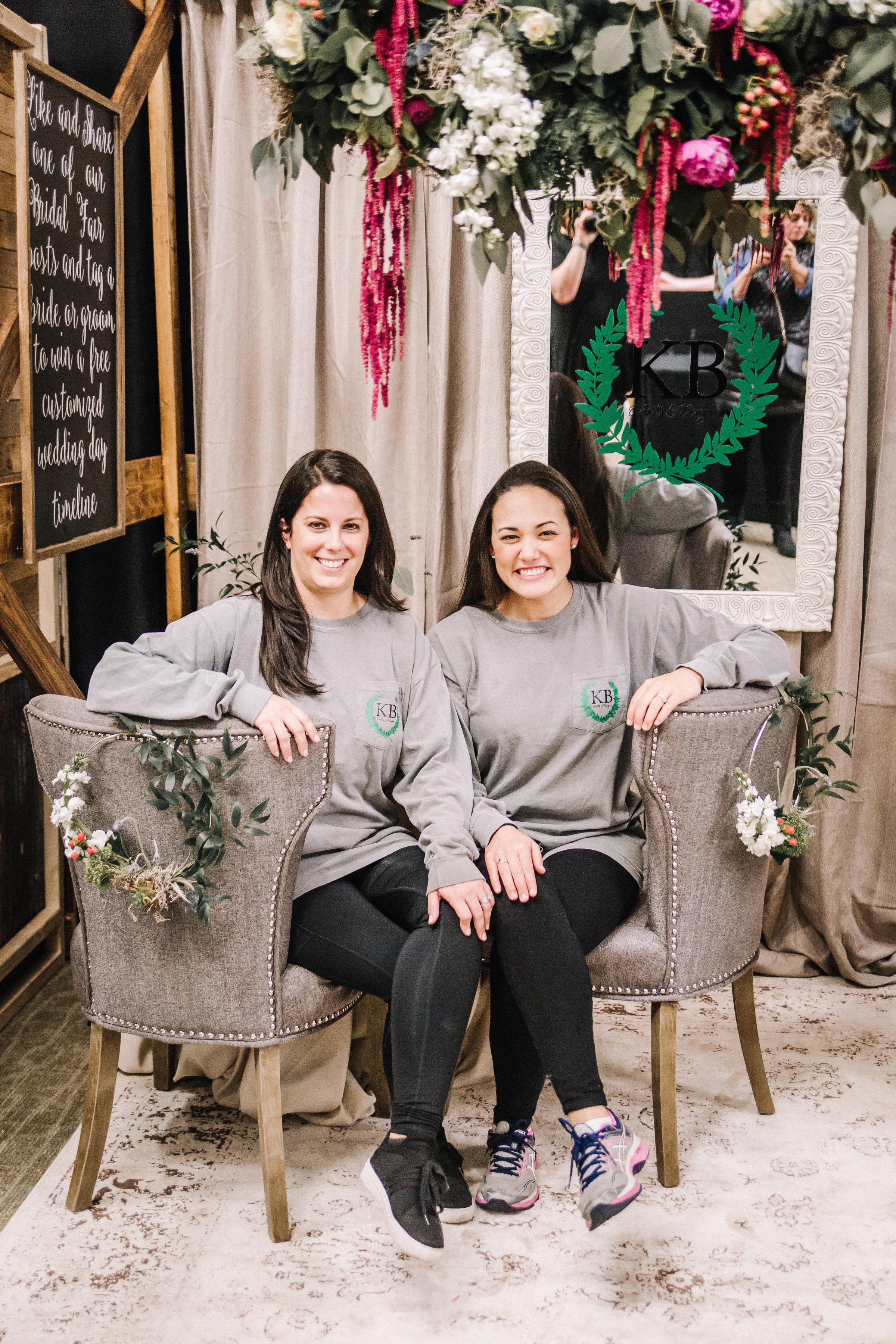 Meet Kacey and Blair, the beautiful gals from KB Events & Design
Tell us about yourself. Why did you decide to get into the floral industry?
We have been sister-in-laws for five years now. After living in separate cities for three years we decided to make our dream of owning our own business come true. We love working together and using our creative minds to solve problems. When Kacey was living in Lawrence, Kansas they had a popular street that hosted a variety of specialty shops. Her dream was to own a fresh flower cart and sell to customers while they enjoy the town. Her dad also instilled a love of plants and flowers into her heart as she was growing up. For Blair, flowers are another creative outlet that bring people joy and comfort.
Where do you get your inspiration for your floral designs?
We love to look through other florists creations online and in print. From these talented artists we put our own twist into things. When working together we use our gut and creative touch to get things exactly the way we envisioned. Social media is a great tool that connects people in this industry and drives creativity.
Who do you follow on Instagram for your inspiration?
Marianna Hunt @millefleurdesign is a great follow. She integrates current trends into her work, showcasing a whimsical look.
Ameila's Flower Truck is a Nashville based mobile flower shop. She is where we drew our inspiration for GypsyMoon Marketplace. She offers a variety of flowers that you hand select and package to take home and enjoy.
Why should a bride choose real flowers over fake flowers?
Many times brides think that fake flowers will save them money, but often times quality artificial flowers are more costly than real flowers. Also, couples are beginning to realize that they want to invest their budget into areas that their guests will enjoy, such as the reception. Using artificial flowers at the ceremony where guests spend the least amount of time tends to be more realistic than using them at the reception. You want your guests to be able to see and enjoy the real flowers all night long. You can ask most photographers about fake vs real and they will echo what we are saying. Real flowers photograph so much better than fake.
What is a floral faux pas?
Couples want to be careful when choosing flowers based on the season of their wedding. If your flowers are out of season not only can it be extremely costly, the entire look of the wedding won't make sense. When gifting flowers you always want to be careful about what you choose to gift. Sending a dozen red roses to your co-worker because they were in an accident might send out a romantic vibe instead of a get well feeling.
What should a bride have prepared when they come for a design meeting with you?
We typically send out a survey for our couples to complete before we sit down and talk about their big day. We also like for them to have an idea of their budget and bring pictures for inspiration. We always want our couples to have open minds to what we might offer them, but ultimately give us honest answers about what they like.
What is a good budget for a bride?
Every bride is different when it comes to how much importance they place on the flowers in their wedding. Some brides just want bridal party flowers, while others want to integrate as many flowers as they can throughout the day. We prefer to listen to the couple and then work together to find the perfect mix of budget and dreams.
How far in advance should a bride secure her florist?
We recommend at least three months in advance for booking your florist. It is easier if you have decided on the style of wedding you want before we sit down and discuss flowers. Also if location is booked and clothing choices made, picking the right flowers will be much easier.
What trends are you seeing in floral and weddings?
For this season greenery, greenery, greenery is all the rage. Also wild romantic looks are taking center stage; brides are skipping the traditional tight bouquets and letting it flow. Up and coming looks are more modern and sleek. Geometric shapes, marble, mixed metals, and unique flowers are really trending. Florists are foraging for the unique look and even integrating fruits and vegetables.
Tell us about your GypsyMoon Marketplace plans and what you will be offering.
For GypsyMoon we will be offering a You Pick, We Package Flower Truck. Shoppers will be able to use their creative flower-loving selves to pick the perfect bouquet of fresh flowers. We will pack them up so that you can take them home to enjoy. We will also offer pre-made bouquets for anyone that is unsure of what to choose and might not have the time to handpick items. These fresh flowers will be the perfect way to brighten up your home or gift someone with a pop of spring.
To learn more about KB Events & Design please CLICK HERE to visit their website
Be sure to check out KB Events & Design at GypsyMoon Marketplace on Friday April 27 from 12pm-8pm ($10 Admission) and Saturday April 28 from 8am-4pm ($5 Admission)
Keep an eye out for our next blog post with more information on all things GypsyMoon!